Events 2018
The 2018 Annual Lunch was held at the DoubleTree by Hilton Hotel, Cheltenham on Monday, February 26th. In the Spring Newsletter, our Vice-Chairman David Wilby reported the occasion: "As last time, this year's lunch was preceded by playing Bliss's marvellous 20-second-long Fanfare for a Dignified Occasion and as the sounds of "dignified" but exhilarating brass music faded away, Gerald Towell, our Chairman, welcomed the forty diners present to the Society's 2018 Festive Lunch. He emphasised how pleased we were on this occasion to welcome Sir Arthur and Lady Bliss's younger daughter, Karen Sellick, as well as our guest speaker, the conductor David Curtis. Our President Ian Venables, one of our Patrons Mark Bebbington, Andrew Burn Chairman of the Bliss Trust, as well as members and supporters of the Society joined us. As ever, it was gratifying to see other music organisations represented among those present: the Holst Birthplace Trust, the Ivor Gurney Society, Gloucester Music Society and the Delius Society. It was clear from the cheerful and friendly atmosphere that those present were having an enjoyable time, helped undoubtedly by the excellent food and amenable venue.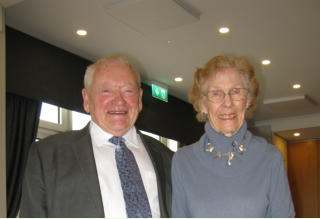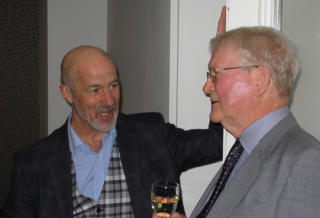 In his talk David Curtis recounted some of his experiences with the Orchestra of the Swan with which, as founder and chief conductor, he had enjoyed a very long association (well over 20 years), as well as being in increasing demand for conducting work with other orchestras, both here and abroad, and particularly in Eastern Europe. He was keen to stress his commitment to outreach work, much of it with children with autism and, at the other end of the age spectrum, with people suffering from dementia. David gave some very interesting, and amusing, insights into a travelling conductor's life, not to mention the perils of ice swimming with over-keen Scandinavian hosts! He explained that he had very recently retired from his intimate connection with the Orchestra of the Swan in order to concentrate on freelance and international conducting, and was able to illustrate most aptly the travel demands on international musicians by being forced to sacrifice his dessert in order to embark on a journey to Gatwick to catch a flight to Hungary that very evening (he made it, by the way!). After David's departure we listened to part of a marvellous recording of Bliss's Music for Strings, conducted by one of his contemporaries, Sir Adrian Boult, a work, which I think, encapsulates much of the best of our composer. Some of those present had heard David conduct it at a Three Choirs Festival concert at Wyastone in 2006. This was followed by the last movement of the Piano Concerto by Sir Arnold Bax, brilliantly played on the CD by Mark Bebbington. As the guests relaxed after the meal, Karen Sellick made a very special effort to move around the tables and talk to as many people as possible. This marked the end of what I think may be considered another highly successful "Festive Lunch". As a tailpiece, it is amusing (and at the same time slightly scary) to remember that the date chosen for the 2018 lunch was a month later than last year, in the hope of avoiding possible wintry weather. Shortly after we dispersed, the first flakes of the snow that within a few days brought Britain virtually to its knees, started to fall. A narrow escape!"
Photos by Philip Statham
_____________________________________
The AGM at the Sacred Hearts Church Hall, Charlton Kings, Cheltenham on 5 May 2018 marked the end of Gerald Towell's fifteen-year tenure as Chairman of the Arthur Bliss Society. In the early 2000s he had been invited by Lady Bliss and the Bliss Trust to set up a society to promote the knowledge and understanding of the music of Sir Arthur Bliss. He found enthusiastic volunteers for his committee from members of Charlton Kings Choral Society, who had recently performed Morning Heroes, and three of these original committee members, Sue Crownshaw, Jill Smith and John Wright are still serving. Later recruits from the same source were David and Helen Wilby. It was proposed that David Wilby should succeed Gerald as Chairman and that Andrew Ellis should take over from Helen Wilby after her eight-and a-half year service as Treasurer, both appointments being approved unanimously. Fortunately, we are not losing Gerald as a member of the Committee, as he wishes to continue managing events and promoting performances of Bliss works locally. Helen will continue as Webmaster. After the business of the AGM was finished, our President Ian Venables presented Gerald with gifts from the Society, paying tribute to Gerald's inspirational chairmanship. On behalf of the Committee, David thanked Christine, Gerald's wife, for her hospitality and support, and presented her with a small token of their appreciation.
The Afternoon Event began with an entertaining and informative talk on the Bliss Ballets by the Chairman of the Bliss Trust, Andrew Burn, outlining the history and scenarios of Adam Zero, Miracle in the Gorbals, The Lady of Shalott and Checkmate, with musical illustrations. After tea we were treated to a film show of the ballet Checkmate performed by Sadlers Wells Royal Ballet and Orchestra, music by Arthur Bliss, choreography by Ninette de Valois, conducted by Barry Wordsworth.
Photos by Philip Statham
_____________________________________
English Music Festival, Dorchester-on-Thames On Saturday 26 May, members and friends from Cheltenham travelled by coach to hear a Bliss double-bill. In the afternoon we heard what one of our members, Graham Lockwood described as an "excellently structured and musically illustrated talk" from Andrew Burn, Chairman of the Bliss Trust, entitled From Rebel to Romantic and delivered in the Village Hall. There followed an evening concert in the Abbey. where the Holst Orchestra was conducted by Hilary Davan Wetton in an impressive performance of Bliss's Music for Strings, which the conductor announced as "a masterpiece". The orchestra was joined by the Godwine Choir to perform works by Dyson. Finzi, Vaughan Willliams and Holst and the evening closed with a performance of Elgar's Elegy.
_____________________________________