Welcome to the Arthur Bliss Society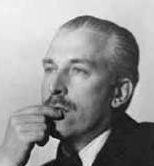 President: Ian Venables Vice-Presidents: Mark Bebbington, Gerald Towell Chairman: David Salter
The Arthur Bliss Society was founded in early 2003 with the aim of furthering the appreciation, understanding and knowledge of the music of Sir Arthur Bliss (1891-1975). He was one of the most important figures in British musical life from the early 1920s (when he was regarded as an enfant terrible) through to his later years and his tenure of the office of Master of the Queen's Music from 1953, following Sir Arnold Bax.
Twice a year members receive a substantial Journal, and a cumulative index is also available. Non-members wishing to buy copies of the Journal and/or the Index please contact the Chairman. The website of The Bliss Trust contains biography, bibliography and discography, and we complement this on the Society's site with active information about social and study events, current news and comment, details of membership, how to join and how to contact us.
Whilst the Bliss Trust website is still the place to go for the complete discography, we have listed new and recent discs on this site, as well as some new photographs. We still appeal for any non-copyright photographs that we could show here, or copyrighted ones that we might display. Our Concerts page is accessed by lovers of Sir Arthur's music worldwide, and we are as keen to include notices of performances abroad as we are those in the UK. We know that far more performances take place in other countries than we show on our Concerts page and we look to our site visitors for information. Please contact the Web team about any other forthcoming performances of Bliss music worldwide – we have no other regular means of knowing about concerts before they take place.
You will find more information about the Arthur Bliss Society and news from the Chairman on the About Us page.
The Enquiries page lists frequently asked questions, and whether a member or not, you can send us your question from this page.
The Links page joins us to other interesting and relevant websites: please suggest any useful additions. It's worth searching for 'Arthur Bliss' on YouTube – there are hundreds of clips, including many that are hard to find elsewhere.
All enquiries relating to copyright should be addressed to The Bliss Trust, whose details can be found on their website.
Archive enquiries should be addressed to The Music Department, Cambridge University Library.
The Bliss Archive can be accessed by clicking HERE.
"A Challenge for 2025"
Please go to our Concerts page for full details on this and forthcoming concerts at home and abroad.